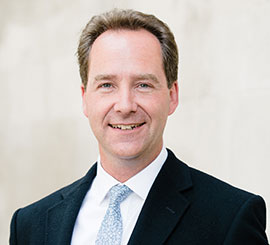 Eliot Ward is a chartered surveyor with over 28 years of experience working on all aspects of commercial property and urban regeneration.
Eliot began his career in 1989 with Grimley JR Eve in Birmingham where he specialised in industrial property portfolio management, development and agency work. He joined English Partnerships, the Government's national regeneration agency, in 1998 and was Area Director for Merseyside & Cheshire from 2003 to 2009 where he oversaw delivery of major transformational projects including the Arena and Convention Centre in Liverpool. He then became Chief Executive of Preston Vision, establishing a small executive team to focus on the regeneration of Preston City Centre. Public funding cuts brought this role to a premature end and in April 2011, Eliot Ward Consulting Limited was established which has since worked with a number of local authorities and developers across the country, advising on mixed-regeneration and helping to deliver major mixed-use development projects.
Eliot is a Governor of Liverpool John Moores University and a member of the University's Finance Committee. He is also a non-executive Board member of Warrington Housing Association and a member of their Audit & Risk Committee.
Eliot enjoys numerous leisure pursuits including the renovation of his home and garden, theatre, golf, skiing and involvement with junior football and rugby in Cheshire.