Breaking Barriers
Pathways, Place and Priorities
Implementing the digital vision for the NHS Long Term Plan
Wednesday 20 March 2019
Royal College of Physicians, London
UNDERSTANDING THE CONTEXT
The NHS Long Term Plan sets out an ambitious vision for digitally enabled care to be mainstreamed across the NHS, including getting acute, community and mental health care settings fully digitised. Additionally, the Social Care Digital Innovation Programme, funded by NHS Digital and managed by the Local Government Association is into its second cycle of funding digital health pilots for people accessing adult social care. Projects within this programme range from assistive technologies to supporting independent living for the elderly to medicine management support. Technology will play a central role in realising the Long Term Plan, helping clinicians use the full range of their skills, reducing bureaucracy, stimulating research and enabling service transformation. This sets out a wide-ranging and funded programme to upgrade technology and digitally enabled care over the next ten years, but actions to achieve this starts now.
The Topol Review, commissioned by the UK government, will inform the development of workforce implementation planning as part of the NHS Long Term Plan. The interim report from this review Preparing the healthcare workforce to deliver the digital future, was published last year, and states that "It is essential that all healthcare professionals are ready for the digital future, a future which puts care at the forefront of healthcare."
THE ROUNDTABLE
Held under Chatham House Rule between 10am and 1pm in the heart of London, this timely event will examine ways to implement the digital vision for the NHS Long Term Plan. Hosted by Breaking Barriers Innovations, this event will provide the opportunity to discuss:
Prioritising Innovation: How can NHS and social care leaders optimise decision making for using the investment funnel for prioritising which digital technologies will lead to the greatest improvement in health and social care experience and outcomes? In particular, how digital technology can support prevention and help patients and service users to remain independent in the community.
Matching Innovative Technology with the Workforce. What are the major digital skills gaps to in the Health and Social Care workforce and how can these be addressed?
Building Technology around the Patient and Place not institutions and silos. How can innovative practices be delivered to join up rather than divide the system?
TIMINGS
Registration time: 09.30
Start time: 10.00
End time: 12.00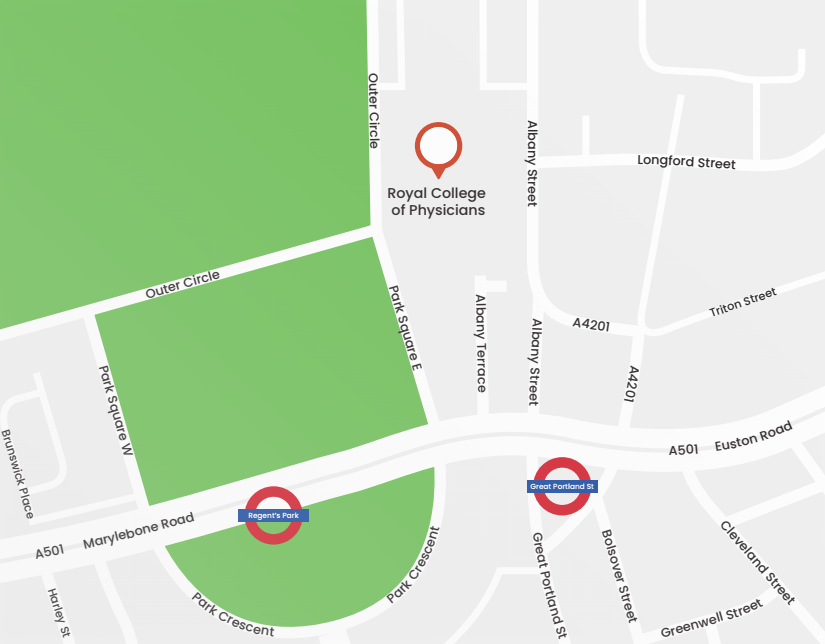 Royal College of Physicians
11 St Andrews Place
London NW1 4LE
The current home of The Royal College of Physicians, 11 St Andrews Place overlooks Regents Park. Two minutes walk from Regent Park and Great Portland Street Tube Stations, this fitting venue will host NHS Trusts and CCGs and Local Authorities.